May I put the lyrics on the wikia, instead of just linking to a lyrics site?
Great! So now, I'll out the lyrics on the page of the song itself, is that alright, too?
Sincerely Tane is love | Join the Tane is Love Brigade Today! | ティン あい です
I have a sugesstion to user page
Edit
i think a good idea on a everyone profile page, are the himself favorite features for System of a down
Favorite songs ( a video for favorite song)
Favorite Albums
Favorite Themes
etc
LIKE THIS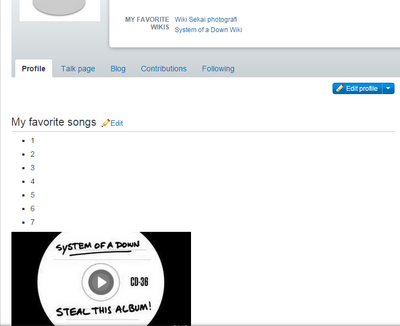 Ad blocker interference detected!
Wikia is a free-to-use site that makes money from advertising. We have a modified experience for viewers using ad blockers

Wikia is not accessible if you've made further modifications. Remove the custom ad blocker rule(s) and the page will load as expected.